Historical Book
Laurent Caille
Chef Coiffeur - Perruquier
Chief Hairdresser - Wig Maker
首席髮型師/假髮設計師
Cinema / TV / Entertainment 電影舞台電視廣告
Introduce you his last book: 介紹他的最新著作
It is necessary to suffer to be beautiful
我們必須遭受的美麗

"History of Hair Dresses and Wigs through the Ages"

(the origins of the fashions in France and Europe)
歷史上的頭髮和假髮通過時間

(來源模式在法國和西)

------------------------------------------------------------------------------------------
(In order to propose a basic translation in Chinese for a better knowledge of the subject, this translation has been done with Google translator and include a lot of mistake ! Sorry for the inconvenience ! 為了提出一個基本的翻譯為中國更好地了解這個問題,這個翻譯已經完成,谷歌翻譯和包含了很多錯誤!很抱歉給您帶來的不便!)
------------------------------------------------------------------------------------------
Some courtesans who are made depilate until a third of head to look like the Queen Isabeau of Bavaria, the "elegants" which bleach their hair by using some decoctions composed of human urine to adapt to the fashion of Venetian blond which is famous under the Margot queen, some kings who powder their head with clouds of gold and an emperor called "the flowered beard" which never wore the beard and use of its power to kill all those who wore it, there are so many mysteries through history which show to the one can decode them, all the suffering that have been necessary to endure for the hairstyle, or rather because of the hairstyle! ...
妓 女的圍欄是高達三分之一的頭髮看起來像女王Isabeau巴伐利亞州的"優雅"的褪色的頭髮與方劑組成的人尿,以適應時尚威尼斯人的金發使人民在瑪戈王 后,國王誰牽頭粉雲彩的黃金和一個皇帝"中的花鬍子"誰沒有穿了鬍子,用戶的權力要殺死所有這些誰在穿著,如果有很多未解之謎歷史表明誰知道解碼的痛苦經 歷,他的髮型,或者更確切地說是因為髮型! ...
To pass on the wood-shed because of red-headed, red beards, green and blue greased with rancid butter proudly worn by hordes of barbarians, Messalina wearing wigs not to be recognized in the famous Roman orgies, Alexander the Great which launches the fashion of short hair and of shaved faces for its soldiers defeat their enemies, a "naughty horse fall" of Mademoiselle de Fontanges which will change the history of France, some pulley systems integrated into the wigs in order to be able to pass under the doors to the castle of Versailles, powdering with flour the famous "cache-crazy" in a period of scarcity that will start the French revolution, the human being did not have of cease since millennia to use the capillary artifices to come to its ends, whether they are political, poetic or romantic…
跳躍的股份,因為它是紅色的,紅色的鬍鬚,綠色和藍色greased黃油腐臭自豪地穿大批野蠻人,麥瑟琳娜戴著假髮,以避免被確認在著名的羅馬 orgies ,其中亞歷山大大帝推出時尚短頭髮剃光,並面臨著他的士兵打敗他們的敵人,下降了馬頑皮的"小姐Fontanges將改變歷史的法國,滑輪系統集成到假 髮,使他們能夠移動根據門向凡爾賽宮,除塵麵粉,如果這些著名的"高速緩存瘋狂"的時候缺乏將觸發法國大革命,人類已經持續了幾千年使用人工毛髮實現其宗 旨,無論是政治,詩歌或浪漫...


At all times the hairdressing has been the first pageantry used to be identified culturally, socially and symbolically, and still even today in our modern societies (or sometimes however preserved societies), the goal of this first asset of identification remained unchanged. A Buddhist monk, a punk, a Rasta or a sâdhu, a politician of right-hand side, left or extremist, a woman residing in the 16th district in Paris rather than in suburbs, until traces of doping in the sportsmen, everything can be detected in this astonishing living matter and sometimes mystical whom represents the hair and its use.
總是美髮是第一個儀器用於識別自己的文化,社會和象徵性的,甚至今天在我們的現代社會(或有時然而,保持)的目的首先是確定資產不變。一名和尚,一個朋 克,一個拉斯塔或sadhu ,一個政治家的權利,向左或極端主義,一個女人住在16區,而不是郊區,直到痕跡,在體育運動中使用興奮劑,什麼都可以檢測生活在這個驚人的,有時所代表 的神秘的頭髮和使用它的事實。
And even today, this original purpose of identification has remained unchanged and each hairstyle is the reflection of the person who wears it. Look around you, everyone is different, each hairstyle is unique and reflects the image of its "owner"!
總是美髮是第一個儀器用於識別自己的文化和社會和極具象徵意義。而即使在今天,原來的目的是確定不變的髮型和每一個反映了人誰穿它。看看你周圍,每個人都不同,每一個都是獨特的髮型和反映的形象,他的主人!
Laurent Caille, Chief Hairdresser and Master Wig Maker for cinema, opera and entertainment for more than twenty years, takes you to discover behind the scenes the history of France and of Europe with a very new glance…
洛朗Caille ,碩士和行政理髮假髮在世界上的電影,歌劇和娛樂20多年來,帶領您在幕後發現歷史的法國和西方的一個全新的期待...
Resulting from many methodical historical researches this unique conference is also a collection of tender anecdotes, funny and crusty that will let you interrogative when you will look again in a mirror your own hair nature.
許多有條不紊地推導歷史研究這本書是收集軼事招標,有趣,清晰的,不會離開你時,你看看審訊再次是一面鏡子你的頭髮具有個人性質。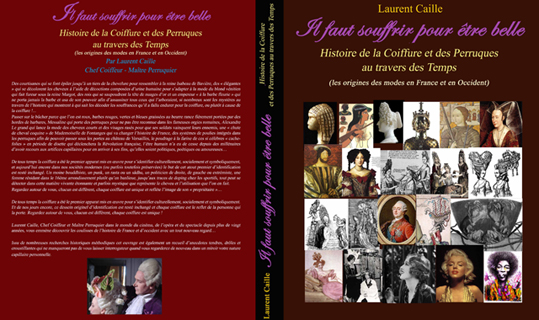 Creation protected by International Copyright © 2007 / 2011

建立保護和存檔版權國際版權
Currently in the midst of writing this innovative book resulting from many methodical historical research, Laurent Caille, Chief Hairdresser and Wig Maker, is looking for a publisher in order to distribute the book to a wide public in France and internationally.
目前正在寫這本書的創新帶來許多有條不紊的歷史研究,洛朗Caille ,首席理髮師和假髮製造商,尋找出版商為了這本書分發到廣大公眾在法國和國際。
To consult the Conferences Program in English
Click here
協商會議日程
---------------------------------------------------------------------------------------------
You can find the last book of Uxar Un CV, un Livre, une Vie...
on http://uxar.free.fr/dotclear/index.php?2004/02/01/155-un-cv-un-livre-une-vie